Here's the thing – I never used to like poetry.
To be honest, I never used to dislike it either. It was an art form that simply passed me by. From time to time I'd read one somewhere, or hear one being read in some form of media or other, and, occasionally, I'd even think one of them was cool but I never looked further than that.
Back in 2004, I was working in IT support as a support analyst. During a three week break between contracts I decided I'd try to write a novel. I wrote a 70,000 word fantasy yarn for young adults and decided that was it, I wanted to be a writer.
I'd never been to university so I looked for ones which had creative writing programmes, and six months later, I matriculated into Ruskin College, Oxford.
The very first seminar – poetry. In fact, it was the start of a term when all we did was look at and analyse poetry from a series of amazing writers. It only took me a couple of weeks of being there before I was checking out more poetry collections than novels from of the library.
From that moment on, I was hooked. I read collections and anthologies and picked up pretty much anything I could find from Oxford's numerous charity book shops.
What was it that I liked about poetry?
It's hard to quantify entirely. I liked the concentration of language for sure and the way each poem I was reading set out to encapsulate a single theme. When it came to writing them, it was different from the novel work I'd been doing and a lot more exciting. I continued my love affair with poetry all the way through university and to the present day. I even got my first few poems into journals and anthologies.
Cut to more recent times and I've been workshopping poetry on several Discord groups, but most recently, The Writers' Block and Scribes and Scribblers.
The latter was where I met Zo. A very smart guy who still posts there. He often makes what are commnly called, shitposts, for want of a better word. He has a fantastic mind and I tried to convince him he should turn his hand to poetry. So I took one of his shitposts and turned it into a poem for him.
These are all his own words (used with permission, of course) but I really didn't add anything, I just edited it into this:
Sleep Is The Cousin Of Death
I never have dreams
of discord people coexisting
with me in person
except for Raj
where I met you
and all we did was go
to some convenience store
and buy noodles.
I've no energy as per usual
but I woke up recently.
What time is it in EST
when western boys are dead?
Brilliant, right?
It was a while later, shortly after I joined The Writer's Block, that @Nobyeni, our resident philosopher, made some passing comments about life, and it got me thinking – those of us who use chat rooms like Discord say cool things all the time which end up disappearing into the aether.
So, again, I edited Noby's words into verse. Noby liked it so much, she posted the poem.
Soon after that I started editing them for anyone who said something fabulous in chat. People began posting them to Steemit, many of them pledging the SBD they raised to go to @tarc – a fantastic charity run by @rhondak – one of the admins at The Writers' Block.
@anikekirsten even created me this amazing logo for people to use when they posted them.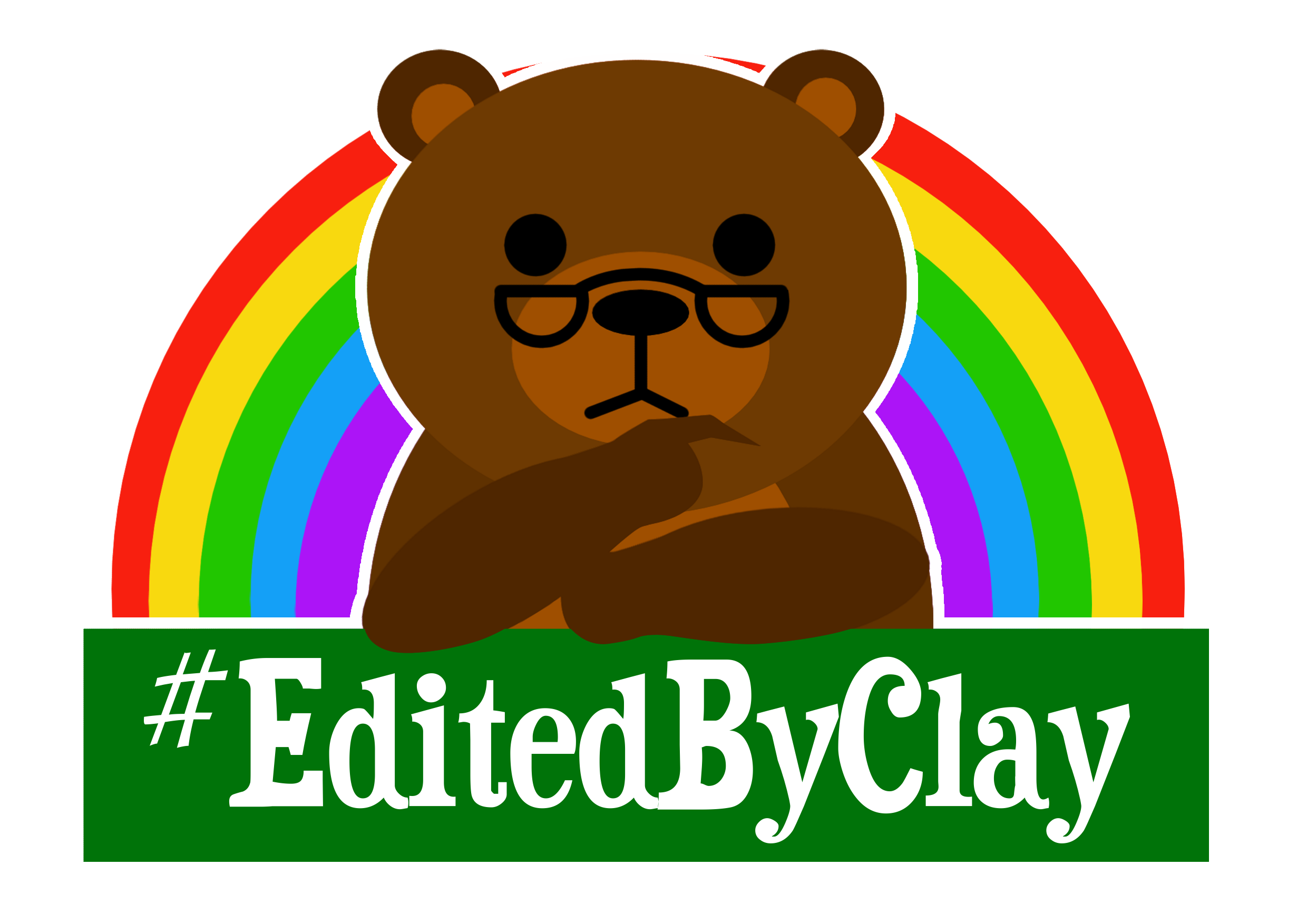 That's how 
#editedbyclay
 became a thing.
Then @bex-dk took it upon herself to start collecting them and now maintains a list of all editedbyclay poems at the Steemshelves which you can visit by clicking the logo above.
There are many fabulous poems there so I'm not going to single any out. They range in style and voice from emotional to light-hearted, from deep and philosophical to tragic, to witty, to wistful. The words are those of the writers – not mine. All I have done is edit them.
The reason for their creation stayed the same. I wanted to show people they were poets. That they had phenomenal poetry inside them, waiting to be discovered in the beauty of their own thoughts. I wanted to demonstrate that their ideas, when slightly shifted into poetic form, took on that quality of nature preserving itself, and of real genius, as in Ralph Waldo Emerson's definition:
To believe your own thought, to believe that what is true for you in your private heart is true for all men, — that is genius. Speak your latent conviction, and it shall be the universal sense; for the inmost in due time becomes the outmost.
The thing that occurs to me when I read those poems is that they all sound so uncontrived. Because they are taken from chat they don't assume a fake poetic voice. They are real poems. I recently wrote a poem which reflects how I feel about all this:
Modern Poem
I was chatting to Shadows
last night.
I came to the conclusion
that a good modern poem
should be like a friend
telling you a thought
or a story.
There's no reason
to adopt a poetic voice;
good poetry is good poetry.
It doesn't need
to announce itself
as such.
It's this simplicity and naturalistic voice which has marked all of these poems so far.
Since I've started doing this, a number of writers in The Writers' Block have been converted and have begun writing their own verse. So I guess it's worked. I'm now also not the only person editing the words of others into verse. You can read more of this by searching out the #unintendedpoet tag.
I believe everyone has poetry in them – original thought just waiting to be expressed. We reveal them it in chat rooms typing words which will never be seen again as they disappear in the upscroll. This action preserves them. Which reminds me, again, of Emerson:
Genius is the activity which repairs the decays of things, whether wholly or partly of a material and finite kind.
So really, this post is about #editedbyclay poems, in case you see them floating around. But, more than that, it's about seeing the inner poet within ourselves and others. In communities like ours, where people often speak openly and honestly, without pretension, they say things that truly are genius – things worthy of being preserved – real poems.
I guess that, sometimes, it takes another writer to show them.